In honor of his being inducted into the Rock n Roll Hall of fame this year, I wanted to take this week and offer up big props to one of my major influences, Tom Waits. Waits is an actor, performance artist, poet, painter, photographer and character of massive proportions and if you are not already a fan please hit me up and I will make some recommendations. Waits and his wife Kathleen have written some of the most amazing lyrics of our generation and deserve a lot more props than I have space to give them. Check out this weeks poet, the indescribable Tom Waits.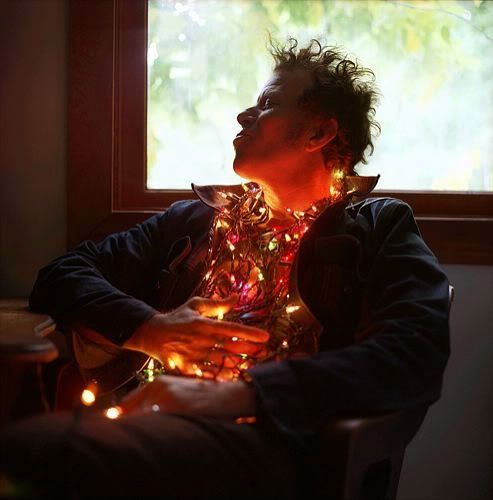 Tom Waits is a gruff-voiced, big-hearted singer/pianist who is to songwriting what Charles Bukowski is to poetry, Jack Kerouac is to prose and Edward Hopper is to painting. A true original, Waits' specializes in story-songs about all kinds of beautiful losers: nighthawks, boozers, grifters, drifters, dreamers, con men and other flotsam from the underbelly of American life. A canny street poet, he sings in a gravelly voice shaped early in his career by a predilection for unfiltered cigarettes and strong drinks. He's given up drinking but the growl remains – sturdy, impassioned, hard-bitten, one-of-a-kind.
.
On the musical side, Wait's mosaic of influences includes such source material as Chicago and Delta blues, German cabaret, parlor ballads, waltzes and polkas, beat poetry and pulp fiction, vaudeville, roadhouse rock, Rat Pack shtick and the avant-garde. He once described his approach to song construction as follows, claiming he was not kidding: "It's like gluing macaroni to a piece of cardboard and painting it gold, really." In a sense this is true since Waits, as one of America's greatest living songwriters, takes the stuff of ordinary life and burnishes it into something with an odd kind of beauty.
.
In a scenario that could have come from one of his songs, Waits was born in the back of a taxicab in a hospital parking lot. He acquired his love of older music from his parents. Waits dropped out of high school to work at a pizza joint. His adolescent love of hitchhiking around the Southwest gave him a ground-level appreciation for cars, Americana and the native landscape. Fortified by Beat Generation literature, he would bring these interests to life in his songwriting.
.
As a fledgling songwriter and performer, he attracted attention at the competitive Monday "hoot nights" at Los Angeles' Troubadour showcase club in the early Seventies. David Geffen signed the twenty-one-year-old Waits to his Asylum label. He debuted in 1973 with Closing Time, a folk-flavored album in which Waits' gruff, idiosyncratic voice and raucous beat poetics were largely held in check. Yet these elements would roar to the forefront in his ensuring work.
.
Waits was a maverick, a trait he shared with Asylum label mate Warren Zevon. He was the antithesis of Seventies slickness, delivering tales of down-and-outers in a whiskey-soaked jowl. He cultivated the look of the barflies, jazzbos and nighthawks he profiled in song. Waits lived in seedy motels for much of the decade, settling on the Tropicana – a monument to faded glory in West Hollywood – as his favorite haunt. He even had a piano installed in the kitchen. His art and life seemed intertwined, as he evidently shared more than empathy with the characters he sang about.
.
Except for the drinking and smoking, that observation holds true even now. In a self-interview conducted to publicize his Alice and Blood Money releases in 2002, Waits offered this as his idea of heaven an earth: "Me and my wife on Route 66 with a pot of coffee, a cheap guitar, pawnshop tape recorder in a Motel 6, and a car that runs good parked right by the door."
.
Waits was prolific during his time at Asylum. Working with producer Bones Howe, he followed Closing Time with six more albums by decade's end: The Heart of Saturday Night (1974), Nighthawks at the Diner (1975), Small Change (1976), Foreign Affairs (1977), Blue Valentine (1978) and Heartattack and Vine (1980). Though his highest-charting Asylum album, the skid-row opus Spare Change, only reached #89, the Eagles' cover of Waits' "Ol' 55" made the Top Twenty. All his Seventies releases were critical and cult-level successes, though not huge sellers.
.
Nighthawks at the Diner, a double album recorded live in the studio, captured Waits at his storytelling best. He continued to grow as a songwriter while generally sticking with a musical setup that created the aura of a smoke-filled, dimly lit nightclub. Waits' piano and guttural voice were often accompanied by a muted trumpet or tenor sax, standup bass and a drummer using brushes. His mixture of beat poetry and small-combo jazz-blues on Nighthawks at the Diner and Small Change provided an alluring anodyne for those put off by Seventies rock's slickness. One Waits' best-known pieces from the Asylum years - "Step Right Up," from Change - was a hoarse-voiced testimonial to life on the underside set to beat-jazz accompaniment. It was this performance that was mimicked, right down to Waits' gravelly vocal tics, in a Doritos commercial. Waits successfully sued Frito-Lay in 1990 and was ultimately awarded $2.5 million in a case that went all the way to the Supreme Court.
.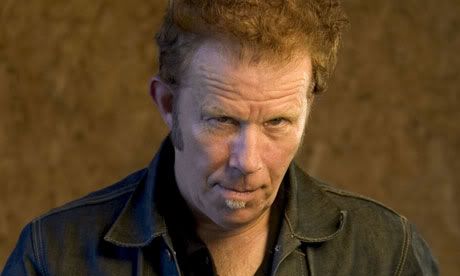 Waits' underwent a major stylistic shift with Swordfishtrombones, released in 1983. It was his first for a new label, Island Records, where he would do some of his most adventurous work. Disregarding conventional song forms and commercial considerations, he embraced dissonance, impressionism, found sounds, obscure and forgotten instruments, bizarre recording techniques and an even more unfettered vocal delivery. This was the album, he's said, on which he found his voice. This change in style coincided with his marriage at age thirty to Kathleen Brennan, a playwright and script editor who he met on the set of a movie. He's since collaborated with her on every project he's undertaken. "I was such a one-man show, very stuck in my ways," Waits told writer Sylvie Simmons. "She helped me rethink myself."
.
Much like the late Don Van Vliet (a.k.a. Captain Beefheart), of whom he is a professed admirer, Waits has aimed to create a new musical language or at least a compelling new dialect. He appreciates the primitivism of field recordings and the skewed perspectives of surrealist writers and artists and avant-garde musicians. These outsider approaches have continued to inform his recorded work since Swordfishtrombones' breakthrough.
.
That landmark album was the first in an informal trilogy– followed by Rain Dogs and Frank's Wild Years – that were sonically and stylistically linked by Waits' newfound sense of adventure and thematically tied by the song "Frank's Wild Years" (which Waits and Brennan would mount into a stage musical). This fruitful period in Waits' career was capped with a tour documented by the Big Time film and album.
.
Waits' first release of the Nineties, Bone Machine, continued on the same artfully prickly path, being his rawest and most harrowing work to date. This highly experimental release, ironically, won Waits the first Grammy of his career (for Best Alternative Music Album). After a six-year break between albums, during which he worked on musicals, operettas and movie projects, Waits returned with Mule Variations (1999), which now found him recording for the Anti/Epitaph label. It, too, earned him a Grammy, this time in the Best Contemporary Folk Album category.
.
Given the cinematic nature of his songs, it is not surprising Waits has made numerous soundtrack contributions (including songs for the films Dead Man Walking, Liberty Heights, Shrek 2 and The End of Violence) and composed film scores for the likes of Francis Ford Coppola. One of them, for Coppola's 1982 film One from the Heart, won an Academy Award nomination. In 1993, Waits and Brennan wrote songs and music for an avant-garde "street opera" called The Black Rider, based on a German folk tale about a man who makes a deal with the devil in order to land the hand of the woman he loves. They composed words and music for two more cutting-edge musicals, Alice and Woyzeck, in ensuing years.
.
It's a tribute to Waits' writing talent that so many of his songs have been recorded by artists who usually compose their own material, including Bruce Springsteen ("Jersey Girl";), Tim Buckley ("Martha";), Johnny Cash ("Down There by the Train";), Bob Seger ("16 Shells from a Thirty-Ought Six";), T-Bone Burnett and Tori Amos (who each covered "Time";), Steve Earle ("Way Down In the Hole";), Sarah MacLachlan ("Ol' 55";), Norah Jones ("Long Way Home";),Elvis Costello ("Innocent When You Dream";), the Pogues ("Tom Traubert's Blues"
and Rod Stewart ("Downtown Train";).
.
What other songwriter but Tom Waits could claim to have been covered by both the Eagles ("Ol' 55"
and the Ramones ("I Don't Wanna Grow Up";)? His songs have also been covered by Screaming Jay Hawkins (whose voice is as unbridled as Waits' own), Solomon Burke, Marianne Faithfull, the Neville Brothers, Robert Plant and Alison Krauss, and the Blind Boys of Alabama. All of this establishes beyond the shadow of a doubt that Tom Waits is a songwriter's songwriter – and, as VH1 declared him, "one of the most influential artists of all time."
.
Waits has continued to offer bold, audacious, cutting-edge work in the new millennium. In 2002, he simultaneously issued the CDs Alice and Blood Money. Both were based on material he'd written for a European stage musical. The subject of Alice was writer Lewis Carroll (author of Alice in Wonderland and other fanciful works), while Blood Money consisted of material he'd written for Woyzeck, a Kafkaesque production relating the sordid tale of a German soldier driven to madness and murder.
The single disc Real Gone (2004) notably featured Waits' first overtly political songs, the antiwar broadsides "The Day After Tomorrow" and "Hoist That Rag." In 2006, Waits delivered a three-disc, 54-song masterwork (with a 94-page booklet) entitled Orphans. Its discs were subtitled Brawlers, Bawlers and Bastards. Waits closed out a particularly prolific and ambitious decade with a double-disc concert set, Glitter and Doom Live.
.
There's no question that Tom Waits has become a warts-and-all American institution – and that he has done so on his own terms. Moreover, he's comfortable with the idea of his work's worth, durability and permanence.
.
"It's nice to think that when you're making your music and bring it out, someone's going to pick it up," he reflected in a 1998 interview with LA Weekly. "And who knows when or where? I listen to stuff that's fifty years old or older than that and bring it into myself. And so you are in a way having communion and fellowship with folks you have yet to meet, who will someday hopefully bring your record home and put it on and bring it together with the sounds that they hear in their own head."
.
.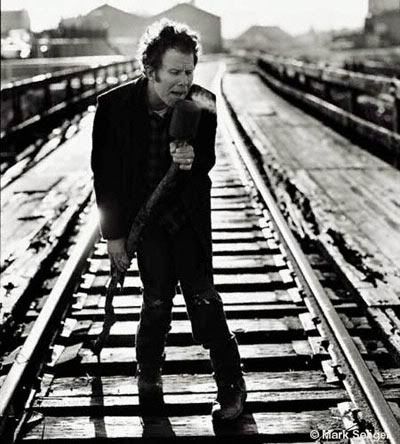 .
.
I Wish I Was in New Orleans
~
Well, I wish I was in New Orleans, I can see it in my dreams,
Arm-in-arm down Burgundy, a bottle and my friends and me
.
Hoist up a few tall cool ones, play some pool and listen
To that tenor saxophone calling me home
And I can hear the band begin "When the Saints Go Marching In",
And by the whiskers on my chin, New Orleans, I'll be there
.
I'll drink you under the table, be red-nosed, go for walks,
The old haunts what I wants is red beans and rice
And wear the dress I like so well, and meet me at the old saloon,
Make sure that there's a Dixie moon, New Orleans, I'll be there
.
And deal the cards roll the dice, if it ain't that old Chuck E. Weiss,
And Claiborne Avenue, me and you Sam Jones and all
.
And I wish I was in New Orleans, 'cause I can see it in my dreams,
Arm-in-arm down Burgundy, a bottle and my friends and me
New Orleans, I'll be there
.
.
.
.
.
Christmas Card From A Hooker In Minneapolis
~
hey Charley I'm pregnant
and living on 9-th street
right above a dirty bookstore
off cuclid avenue
and I stopped taking dope
and I quit drinking whiskey
and my old man plays the trombone
and works out at the track.
.
and he says that he loves me
even though its not his baby
and he says that he'll raise him up
like he would his own son
and he gave me a ring
that was worn by his mother
and he takes me out dancin
every saturday nite.
.
and hey Charley I think about you
everytime I pass a fillin' station
on account of all the grease
you used to wear in your hair
and I still have that record
of little anthony & the imperials
but someone stole my record player
how do you like that?
.
hey Charley I almost went crazy
after mario got busted
so I went back to omaha to
live with my folks
but everyone I used to know
was either dead or in prison
so I came back in minneapolis
this time I think I'm gonna stay.
.
hey Charley I think I'm happy
for the first time since my accident
and I wish I had all the money
that we used to spend on dope
I'd buy me a used car lot
and I wouldn't sell any of em
I'd just drive a different car
every day dependin on how
I feel.
.
hey Charley
for chrissakes
do you want to know
the truth of it?
I don't have a husband
he don't play the trombone
and I need to borrow money
to pay this lawyer
and Charley, hey
I'll be eligible for parole
come valentines day.
.
.
.
.
Filipino Box Spring Hog
~
Well I hung on to Mary's stump
I danced with a soldier's glee
With a rum soaked crook
And a big fat laugh
I spent my last dollar on thee
I saw Bill Bones, gave him a yell
Kehoe spiked the nog
With a chain link fence
And a scrap iron jaw
Cookin up a Filipino Box Spring hog
Spider rolled in from
Hollister Burn
With a one-eyed stolen Mare
Donned himself with chicken fat
Sawin on a jaw bone violin there
Kathleen was sittin down
In little reds recovery room
In her criminal underwear bra
I was naked to the waist
With my fierce black hound
And I'm cookin up a Filipino Box Spring Hog
Cookin up a Filipino Box Spring Hog
Cookin up a Filipino Box Spring Hog
.
Dig a big pit in a dirt alley road
Fill it with madrone and bay
Stinks like hell
And the neighbors complain
Don't give a hoot what they say
Slap that hog
Gotta roll em over twice
Baste him with a sweeping broom
You gotta swat them flies
And chain up the dogs
Cookin up a Filipino Box Spring Hog
Cookin up a Filipino Box Spring Hog
.
Rattle snake piccata with grapes and figs
Old brown Betty with a yellow wig
Tain't the mince meat filagree
And it ain't the turkey neck stew
And it ain't them bruleed
Okra seeds though she
Made them especially for you
Worse won a prize for her
Bottom black pie
The beans got to thrown to the dogs
Jaheseus Christ I can always
Make room when they're
Cookin up a Filipino Box Spring Hog
Cookin up a Filipino Box Spring Hog
Cookin up a Filipino Box Spring Hog