Because I am a contrary bastard and not fond of the amateur drunk fest that is Saint Patrick's day (He was British by the way). I am going to devote this week's Famous Poet Friday to Scotland's favorite Poetic son. Scotland Forever
.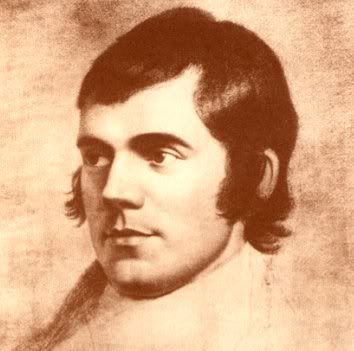 .
.
The work of the Scottish poet Robert Burns (1759-1796) is characterized by realism, intense feeling, and metrical virtuosity. His best work is in Scots, the vernacular of southern Scotland, and he is one of the greatest authors in that language of the last 4 centuries.
~
Robert Burns was born in Alloway, Ayrshire, on Jan. 25, 1759, in the cottage of hard-working farmer parents. He grew up in the general atmosphere of dour Scottish Calvinism, but his father's moderate religious views helped instill in Burns a spirit of tolerance and of rebellion against the grimmer doctrines of Calvinism. Although Burns's formal schooling was skimpy, he read avidly and for a time had a good tutor in John Murdoch, who gave him a thorough grounding in the 18th-century genteel tradition of English literature.
~
The family worked hard on their Ayrshire farm, and the arduousness of his labor in adolescence was to have a crippling effect in the long run on Robert's health. And troubles with landlords and their agents were helping to foster in him the egalitarianism and rebelliousness against privilege which became prominent themes in his poetry. In 1784 his father died in bankruptcy, and the family then moved a few miles away to Mossgiel. Here and in nearby Mauchline the gregarious and attractive Burns embarked on his notorious career as womanizer, which extended to about 1790. (By the end of his short life he was to have fathered fourteen children, nine of them out of wedlock, by six different mothers.)
~
At Mossgiel, Burns's poetic powers developed spectacularly, and in 1786 he published Poems, Chiefly in the Scottish Dialect at nearby Kilmarnock. At this time Burns was 27, and he had written some of the most effective and biting satires in the language. Among them were "Holy Willie's Prayer" (a dramatic monologue which exposes the hypocrisy of a Calvinist pharisee) and "The Holy Fair" (a cynically humorous description of the Scottish equivalent of a religious camp meeting). Other important poems which appeared in his first volume were "Address to the Unco Guid" (a moving appeal to the rigidly upright to show tolerance for the fallen); "The Jolly Beggars" (a dramatic poem celebrating ragged havenots and ending with one of the most exhilarating paeans to anarchism in any language); the masterful "Address to the Deil" (that is, to the Devil); "The Cotter's Saturday Night" (an idealization of rural Scottish virtues); the sentimental but moving "Auld Farmer's Salutation to His Mare"; and the poignant "To a Mouse" (a poem that treats the human condition through presenting a field mouse unearthed by the plow). These and other typical poems by Burns are almost unparalleled in their combination of direct colloquialism and profundity of feeling or shrewd satirical characterization. Not for centuries had such fine poetry been written in the Scots tongue, poetry of feeling that exhibited great metrical virtuosity.
~
But 1786 was also a year of great distress for Burns. His liaison with Jean Armour, a Mauchline girl, had resulted in the birth of twins, and the two unwed parents were exposed to public penance. In addition, Burns was in love with Mary Campbell, the "Highland Mary" of his lyric, but she died in 1786, apparently in giving birth to his child. He contemplated emigrating to Jamaica, but he abandoned the plan and spent the winter in Edinburgh, where he was lionized. Early in 1787 a new edition of his poems was published which made him famous not only throughout Scotland but also in England and internationally. After a summer and fall spent in touring Scotland (the only real traveling he ever did), and incidentally in a renewal of his affair with Jean, Burns spent a second winter in Edinburgh. The limelight had begun to dim, but the sojourn was highlighted by the tragicomic love episode with Mrs. M'Lehose, the "Clarinda" of the "Sylvander-Clarinda" letters. This episode ended in March 1788 with Burns's decision to return to Mauchline and marry Jean, who had borne him a second set of twins.
~
After his marriage Burns turned his efforts to supporting his family. In 1788 he leased a farm at Ellisland, 45 miles from Mauchline. After frustrating delays in house building and an equally frustrating few years trying to wring an income from reluctant farmland, he moved with Jean and the children to Dumfries. In 1789 he had begun duties as a tax inspector, a profession in which he continued until his death.
~
At Ellisland, Burns had little leisure, but it was there that he wrote his masterpiece of comic humor "Tam o'Shanter," his one outstanding piece of narrative verse. He also wrote numerous songs (some of them original lyrics for old tunes, some refurbishings of old lyrics) for The Scots Musical Museum, an anthology of Scottish songs with which he had been associated since 1787. From 1792 until his death he also collaborated on a similar work, A Select Collection of Original Scottish Airs. Most of Burns's poetic effort in the Ellisland and Dumfries periods was in this area of song writing and song editing (he had written songs earlier but had usually not published them), and his achievement was spectacular. Among the lyrics, early and late, that he composed or reworked are "Mary Morison," "Highland Mary," "Duncan Gray," "Green Grow the Rashes, O," "Auld Lang Syne," "John Anderson, My Jo," "Scots Wha Hae Wi' Wallace Bled," "A Man's a Man for A' That," "A Red, Red Rose," and "Ye Banks and Braes o' Bonie Doon." These are true song lyrics; that is, they are not poems meant to be set to music but rather are poems written to melodies that define the rhythm.
~
Burns's years in Dumfries were years of hard work and hardship but not (as posthumous legend soon began to insist) of ostracism and moral decline. He was respected by his fellow townsmen and his colleagues. His health, always precarious, began to fail, and he died of heart disease on July 21, 1796. As if in witness to his vitality, his wife gave birth to their last child on the day of the funeral.
.
.
.
.
To a Mouse
~
EE, sleekit, cowrin, tim'rous beastie,
Oh, what a panic's in thy breastie!
Thou need na start awa sae hasty,
Wi' bickering brattle!
I was be laith to rin an' chase thee,
Wi' murd'ring pattle!
II
I'm truly sorry man's dominion
Has broken Nature's social union,
An' justifies that ill opinion
Which makes thee startle
At me, thy poor, earth-born companion
An' fellow-mortal!
III
I doubt na, whyles, but thou may thieve;
What then? poor beastie, thou maun live!
A daimen-icker in a thrave
'S a sma' request;
I'll get a blessin wi' the lave,
And never miss't!
IV
Thy wee-bit housie, too, in ruin!
Its silly wa's the win's are strewin!
An' naething, now, to big a new ane,
O' foggage green!
An' bleak December's winds ensuin,
Baith snell an' keen!
V
Thou saw the fields laid bare an' waste,
An' weary winter comin fast,
An' cozie here, beneath the blast,
Thou thought to dwell,
Till crash! the cruel coulter past
Out thro' thy cell.
VI
That wee bit heap o' leaves an stibble,
Has cost thee mony a weary nibble!
Now thou's turn'd out, for a' thy trouble,
But house or hald,
To thole the winter's sleety dribble,
An' cranreuch cauld!
VII
But, Mousie, thou art no thy lane,
In proving foresight may be vain:
The best-laid schemes o' mice an' men
Gang aft a-gley,
An' lea'e us nought but grief an' pain,
For promis'd joy!
VIII
Still thou art blest, compared wi' me!
The present only toucheth thee:
But och! I backward cast my e'e,
On prospects drear!
An' forward, tho' I cannot see,
I guess an' fear!
.
.
.
.
To a Mouse Translation
Small, sleek, cowering, timorous beast,
O, what a panic is in your breast!
You need not start away so hasty
With hurrying scamper!
I would be loath to run and chase you,
With murdering plough-staff.
.
I'm truly sorry man's dominion
Has broken Nature's social union,
And justifies that ill opinion
Which makes thee startle
At me, thy poor, earth born companion
And fellow mortal!
.
I doubt not, sometimes, but you may steal;
What then? Poor beast, you must live!
An odd ear in twenty-four sheaves
Is a small request;
I will get a blessing with what is left,
And never miss it.
.
Your small house, too, in ruin!
It's feeble walls the winds are scattering!
And nothing now, to build a new one,
Of coarse grass green!
And bleak December's winds coming,
Both bitter and keen!
.
You saw the fields laid bare and wasted,
And weary winter coming fast,
And cozy here, beneath the blast,
You thought to dwell,
Till crash! the cruel plough past
Out through your cell.
.
That small bit heap of leaves and stubble,
Has cost you many a weary nibble!
Now you are turned out, for all your trouble,
Without house or holding,
To endure the winter's sleety dribble,
And hoar-frost cold.
.
But Mouse, you are not alone,
In proving foresight may be vain:
The best laid schemes of mice and men
Go often askew,
And leaves us nothing but grief and pain,
For promised joy!
.
Still you are blest, compared with me!
The present only touches you:
But oh! I backward cast my eye,
On prospects dreary!
And forward, though I cannot see,
I guess and fear!
.
.
.
.
.
Bannockburn
~
At Bannockburn the English lay,--
The Scots they were na far away,
But waited for the break o' day
That glinted in the east.
.
But soon the sun broke through the heath
And lighted up that field of death,
When Bruce, wi' saul-inspiring breath,
His heralds thus addressed:--
.
"Scots, wha hae wi' Wallace bled--
Scots, wham Bruce has aften led--
Welcome to your gory bed.
Or to victorie!
.
"Now's the day, and now's the hour;
See the front o' battle lower;
See approach proud Edward's power--
Chains and slaverie!
.
"Wha will be a traitor knave?
Wha can fill a coward's grave?
Wha sae base as be a slave?
Let him turn and flee!
.
"Wha for Scotland's king and law
Freedom's sword will strongly draw,
Freeman stand or freeman fa'--
Let him follow me!
.
"By Oppression's woes and pains!
By your sons in servile chains!
We will drain our dearest veins,
But they shall be free!
.
"Lay the proud usurpers low!
Tyrants fall in every foe!
Liberty's in every blow!
Let us do or die!"