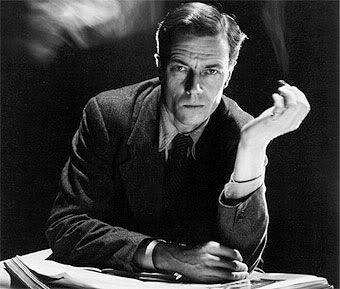 Cecil Day-Lewis was born on April 27, 1904, at Ballintubbert in what was then Queen's County, today County Laois, in the Midlands of Ireland. His father, Frank, was a Church of Ireland clergyman, his mother Kathleen a nurse until their marriage in 1901.
~
The Day-Lewis family moved to England in 1906, first to Malvern in Worcestershire, and then to Ealing, west London, where in 1908 Kathleen died of cancer. Frank Day-Lewis was devastated by her loss but bottled up his grief. He was unable to talk of his dead wife to their son. His attempt to be both mother and father led to what Day-Lewis later called 'smother-love'. After attending prep school in London, the boy was relieved to escape his father to attend Sherborne School in Dorset as a boarder.
~
In October 1923, he went up to Wadham College, Oxford, where he was tutored in classics by Maurice Bowra. He was not a distinguished scholar, and decided early on to dedicate himself to poetry. He published his first collection, Beechen Vigil, in 1925, but it was in his final year, 1927, that he met fellow student WH Auden.
~
In the early 1930s, Auden and Day-Lewis – alongside Stephen Spender, Louis MacNeice, Rex Warner and others – became celebrated as the 'Poets of the Thirties'. Their political, polemical, verse, modern in its industrial imagery but traditional in form (against the prevailing Modernist mood of the time), struck a chord with the public. The poets articulated a wider unease at the political, economic and social crisis of the decade that saw the failure of the first Labour government, economic collapse, mass unemployment, hunger marches and the rise of fascism in Europe. Their solution – a communist revolution – was naïve and idealistic, especially since Day-Lewis was by then teaching in a private school, but was nonetheless sincerely meant.
~
His collections Transitional Poem (1929), From Feathers to Iron (1932), The Magnetic Mountain (1933), and A Time To Dance (1935) established Day-Lewis's name in the poetic canon. In a much quoted remark in 1935, TE Lawrence (Lawrence of Arabia) was reported to have told Winston Churchill, when the later bemoaned the lack of great men in Britain, 'there is one great man in this country and his name is Cecil Day-Lewis'.
~
By 1938, however, Day-Lewis had grown disillusioned with revolutionary ideas, had seen the failure of the Leftist cause in the Spanish Civil War, and heard reports of the brutal reality of life in Stalin's Soviet Union. He 'noiselessly slipped the painter', as he put it in his 1960 autobiography, The Buried Day, and moved his first wife, Mary, daughter of one of his schoolmasters, and his two sons, Sean and Nicholas, to Musbury on the Devon-Dorset border.
~
With the outbreak of war, he felt both great love of country and great confusion about what role to play in a war he had never wanted. Treated initially with suspicion by the authorities when he tried to join the war effort at the Ministry of Information (Mi5 had been following him since 1935), he signed up instead for the local Home Guard and channelled his energies into translating into English The Georgics of Virgil, a stirring hymn of patriotism. It was the first of a series of celebrated verse translations he undertook, including The Aeneid for the BBC as part of the Festival of Britain celebrations.
~
His divided heart over the war soon became a divided heart in his private life too. He fell in love in 1941 with the novelist, Rosamond Lehmann. They spent most of the rest of the decade living together, with Day-Lewis making regular trips to his wife and growing children back in Devon. The tension initially proved fruitful for his work. His 1943 collection, Word Over All, is judged by many as his finest achievement. By 1948, however, when he published Poems 1943-1947, the strain of leading a double life was clearly taking its toll.
~
In 1948, he met and subsequently fell in love with a young actress, Jill Balcon. In 1950 he left both his first wife and Lehmann and the following year married Balcon. They had two children – the documentary-maker and cookery writer, Tamasin Day-Lewis in 1953, and the Oscar-winning actor, Daniel Day-Lewis in 1957.
~
At the start of the Fifties, Day-Lewis was at the height of his fame. Each new collection of his poetry – An Italian Visit (1953), Pegasus and Other Poems (1957) - caused major headlines. The detective novels he had been writing since 1935 under the pen-name Nicholas Blake were popular and admired. He was a distinguished broadcaster on the BBC, reading his own and others' poetry. And in 1951 he defeated his near namesake CS Lewis to be elected Oxford Professor of Poetry.
~
By the 1960s, however, his critical standing was in decline, though his old friend WH Auden wrote to him in 1961 to say that he found his later verse 'much finer' than what had gone before. Day-Lewis's commitment in the Thirties to a political role for poetry had by this stage translated into a belief in upholding poetry's public and civic purpose. He sat on many committees promoting the arts. With Balcon he gave recitals up and down the country. It was fitting that, at the start of 1968, following the death of John Masefield, he was appointed Poet Laureate.
~
For some younger critics it was a final nail in his coffin, the one-time communist who had sold out to the Establishment, but Day-Lewis began to modernise the ancient royal office of Laureate with gusto, penning verse on environmental and third world issues. However, his health was failing. While visiting Charles Eliot Norton Professor at Harvard University from 1964 to 1965, he had a near brush with death. Though he recovered and took up once again his public duties, he remained fragile.
~
In later years, his verse became freer in form – though he was to the end a dedicated and peerless craftsman. He reflected increasingly on his own Irish roots, holidaying there each year with his young family, and devoting his last collection, The Whispering Roots in 1970, to the subject of his origins.
~
He died of cancer on May 22, 1972 with his family and friends around him. A Lasting Joy, the television series on poetry he had recorded with Balcon in his last months, was shown posthumously on the BBC to great praise and substantial viewing figures. In the Times Literary Supplement, Professor Samuel Hynes wrote that Day-Lewis deserved his place next to Hardy as a supreme modern upholder of the English lyric tradition. Fellow poet Charles Causley described him as 'the greatest lyric poet of the twentieth century' while critic and historian Kenneth Hopkins concluded 'the originality in his poetry far outweighs its echoes'. His successor as Poet Laureate, John Betjeman, arguably summed it up best when he wrote in 1972: 'I am absolutely sure Cecil's poetry is underrated. He persists in the mind. I only rattle on the ears'.
.
.
.
.
.
.
The Volunteer
~
Tell them in England, if they ask
What brought us to these wars,
To this plateau beneath the night's
Grave manifold of stars –
.
It was not fraud or foolishness,
Glory, revenge, or pay:
We came because our open eyes
Could see no other way.
.
There was no other way to keep
Man's flickering truth alight:
These stars will witness that our course
Burned briefer, not less bright.
.
Beyond the wasted olive-groves,
The furthest lift of land,
There calls a country that was ours
And here shall be regained.
.
Shine on us, memoried and real,
Green-water-silken meads:
Rivers of home, refresh our path
Whom here your influence leads.
.
Here in a parched and stranger place
We fight for England free,
The good our fathers won for her,
The land they hoped to see.
.
.
.
.
.
.
On Not Saying Everything
~
This tree outside my window here,
Naked, umbrageous, fresh or sere,
Has neither chance nor will to be
Anything but a linden tree,
Even if its branches grew to span
The continent; for nature's plan
Insists that infinite extension
Shall create no new dimension.
From the first snuggling of the seed
In earth, a branchy form's decreed.
.
Unwritten poems loom as if
They'd cover the whole of earthly life.
But each one, growing, learns to trim its
Impulse and meaning to the limits
Roughed out by me, then modified
In its own truth's expanding light.
A poem, settling to its form,
Finds there's no jailer, but a norm
Of conduct, and a fitting sphere
Which stops it wandering everywhere.
.
As for you, my love, it's harder,
Though neither prisoner nor warder,
Not to desire you both: for love
Illudes us we can lightly move
Into a new dimension, where
The bounds of being disappear
And we make one impassioned cell.
So wanting to be all in all
Each for each, a man and a woman
Defy the limits of what's human.
.
Your glancing eyes, your animal tongue,
Your hands that flew to mine and clung
Like birds on bough, with innocence
Masking those young experiments
Of flesh, persuaded me that nature
Formed us each other's god and creature.
Play out then, as it should be played,
The sweet illusion that has made
An eldorado of your hair
And our love an everywhere.
.
But when we cease to play explorers
And become settlers, clear before us
Lies the next need – to re-define
The boundary between yours and mine;
Else, one stays prisoner, one goes free.
Each to his own identity
Grown back, shall prove our love's expression
Purer for this limitation.
Love's essence, like a poem's, shall spring
From the not saying everything.