Welcome once again to Cutter's Famous Poet Friday!
.
This week I am going to bring you kind of a guru of mine and while in truth he was a singer-songwriter, his poetry in lyric is undeniable. Dave Carter with his mythic overtones and mystical leanings taught me a lot about how even a grand vision can be brought to the public eye if couched in beautiful language and gods, could Dave Carter write.
.
I am going to do this a little differently. After the biography I am going to post three pieces of Dave's work. I will post the lyrics, then a link to a youtube video where you can hear the magic in what he does. I will deviate from that only in the last video. The third one will be Carter's song Crocodile Man performed by fingerpicker Chris Smither. Carter often said that Smither's version of the track fit his vision for it better than his own and I agree with it.
.
So with that in mind, I offer you the late, amazing Dave Carter.
.
Bio
.
Dave Carter (August 13, 1952 – July 19, 2002) was an American folk singer-songwriter who described his style as "post-modern mythic American folk music." He was one half of the duo Dave Carter and Tracy Grammer, who were heralded as the new "voice of modern folk music" in the months before Carter's unexpected death in July 2002. They were ranked as number one on the year-end list for "Top Artists" on the Folk Music Radio Airplay Chart for 2001 and 2002, and their popularity has endured in the years following Carter's death. Joan Baez who went on tour with the duo in 2002 spoke of Carter's songs in the same terms that she once used to promote a young Bob Dylan.
.
Early Life
.
Dave Carter was born in Oxnard, California. His father was a mathematician and a petroleum engineer and his mother was a science teacher and a charismatic Christian. Carter was raised in Oklahoma and Texas and would draw on his rural upbringing in many of his songs. He studied classical piano from age 4 to about age 12, when he took up guitar. At 17, he left home to hitchhike around the country, especially the Midwestern United States (Great Plains area).
.
After graduating with degrees in music (cello) and fine arts from the University of Oklahoma, he moved to Portland, Oregon, where he continued his education at Portland State University, earning a degree in mathematics. He began an advanced degree in mathematics, but a personal epiphany led him to realize that this was not to be his field. He went on to study what he called "the psychology of mystical experience" at the Institute of Transpersonal Psychology in Palo Alto and the California Institute of Integral Studies in San Francisco, and worked as an embedded systems programmer for several years before taking up music full-time in the mid-1990s.
.
He often told the story about hitchhiking to a folk festival directly from the University of Oklahoma and having a green plymouth pull over to pick him up and it was driven by outlaw country music star Merle Haggard. Who told Carter, "If I had known that was a cello instead of a guitar I wouldn't have stopped." Carter claimed that it was kind of an epiphany to him.
.
Carter was also greatly influenced by mythologist Joseph Campbell, who visited his college, and American mystic Carlos Castaneda. He was also influenced by the American landscape, Arthurian mythology, the environment, and transcendental psychology.
.
Carter's style began to evolve and he released a fairly successful debut album with 1995's Snake Handlin' Man, but it was while touring in support of that album that Carter was to meet and partner up with the talented singer and multi-instrumentalist Tracy Grammer, though Carter remained the primary songwriter for the duration of his life.
.
Their work dealt with a number of themes, particularly Buddhist theology, Arthurian legend (and mythic themes in general), and the American west, often juxtaposed together in one song. In 2002, shortly before his death, Dave spoke of the duo's "ever-burgeoning goddess repertoire" as another lyric theme. One example of his admixture of themes may be found in the closing lines of "Happytown," the first track from the album, Tanglewood Tree:
.
parceval and valentino, ridin' winged palominos
willie in his el camino, on the run
here in the shining city, here in the endless summer
here in the cave of wonder, number ninety-two
the gods will lounge around until the show is through
but it's all right, it's all right with me, if it's all right with you
.
Their first album, When I Go, was actually released as a Dave Carter album "with Tracy Grammer" and Carter sang the lead vocals on all but one of the tracks, "Kate and the Ghost of Lost Love," which was a duet. Produced by the duo, the album was recorded in Grammer's kitchen. Their second album, Tanglewood Tree, featured a more even split of singing duties, and was the first to actually be labeled as a Dave Carter and Tracy Grammer album. The album was described by Carter in an interview as "the world's first Buddhist country album." Their third album (the last released before Carter's death), Drum Hat Buddha, maintained an even split between the two on lead vocals. This album met with considerable critical success, and the pair was considered by prominent reviewers to be one of the most promising new folk acts then active. In 2002, they toured the United States with folk legend Joan Baez, who described Carter's lyric writing as "a kind of genius"
.
On July 19, 2002, Carter died of a massive heart attack while on tour in western Massachusetts. The impact on the folk music community was considerable; a substantial shrine was spontaneously created by fans and colleagues at the Falcon Ridge Folk Festival the following week. Grammer chose to attend the festival and perform without Carter; the festival organizers transformed the scheduled Dave and Tracy set into a tribute concert at which many of the performers at the festival sang Carter's songs, led by Grammer.
.
Following his death Tracy Grammer posted the following in a letter to fans. "Yesterday, shortly after he went unconscious, he came back for a lucid minute or two to tell me, 'I just died... Baby, I just died...' There was a look of wonder in his eyes, and though I cried and tried to deny it to him, I knew he was right and he was on his way. He stayed with me a minute more but despite my attempts to keep him with me, I could see he was already riding that thin chiffon wave between here and gone. He loved beauty, he was hopelessly drawn to the magic and the light in all things. I figure he saw something he could not resist out of the corner of his eye and flew into it. Despite the fact that every rescue attempt was made by paramedics and hospital staff and the death pronouncement officially came at 12:08 pm Eastern Time, I believe he died in my arms in our favorite hotel, leaving me with those final words. That's the true story I am going to tell."
.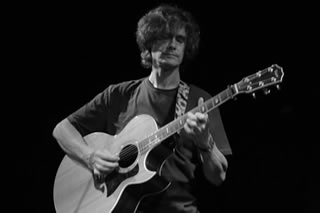 Red (Elegy)
~
My love is like a red, red rose
snake on her shoulder and a ring in her nose
sleepin' it off in her swaddlin' clothes
innocent as she lies
.
I don't know where she come from
hangin' with dealers and slick-back scum
dreamin' of a summer that never comes
and waitin' for me to die
.
She is the daughter of the Joshua tree
long time losers and o.g. wannabes
mama's in the corn and the fields are fallow
soul needs savin' but i'm too damned shallow
.
Sweet maria she's a pretty little 9
kicks like a mule but she barks just fine
I ain't cleaned her in a mighty long time
takin her out tonight
.
Dip her in a bucket of kerosene
Mr. Rogers on my t.v. screen
friendliest sucker I ever seen
we are precious in his sight
.
'Cause we are the children of the Joshua tree
longtime losers and o.g. wannabes
mama's in the corn and the fields are barren
roof needs fixin' but I'm way past carin'
Ophelia's drowned in the cold, cold flood
a thorn by any other name draws blood
deep red drops on a scarlet bud
daddy we comin' home
.
We don't know where home lies now
but we'll turn up there some damned how
drawn to the barn and the busted plow
and the graves all overgrown
.
Because we are the children of the Joshua tree
longtime losers and o.g. wannabes
mama's in the corn and the field's been trampled
you can't reason with a soul in shambles
.
https://www.youtube.com/watch?v=acfvf0JF_oE
.
.
When I go
~
Come, lonely hunter, chieftain and king
I will fly like the falcon when I go
Bear me my brother under your wing
I will strike fell like lightning when I go
I will bellow like the thunder drum, invoke the storm of war
A twisting pillar spun of dust and blood up from the prairie floor
I will sweep the foe before me like a gale out on the snow
And the wind will long recount the story, reverence and glory,
when I go.
.
Spring, spirit dancer, nimble and thin
I will leap like coyote when I go
Tireless entrancer, lend me your skin
I will run like the gray wolf when I go
I will climb the rise at daybreak, I will kiss the sky at noon
Raise my yearning voice at midnight to my mother in the moon
I will make the lay of long defeat and draw the chorus slow
I'll send this message down the wire and hope that someone wise is listening when I go.
.
And when the sun comes trumpets from his red house in the east
He will find a standing stone where long I chanted my release
He will send his morning messenger to strike the hammer blow
And I will crumble down uncountable in showers of crimson rubies
when I go.
.
Sigh, mournful sister, whisper and turn
I will rattle like dry leaves when I go
Stand in the mist where my fire used to burn
I will camp on the night breeze when I go
And should you glimpse my wandering form out on the borderline
Between death and resurrection and the council of the pines
Do not worry for my comfort, do not sorrow for me so
All your diamond tears will rise up and adorn the sky beside me
when I go.
.
https://www.youtube.com/watch?v=uZk1CvsDSZc
.
.
.
Crocodile Man
~
Momma raised me on riddles and trances,
fat-back, channel cat, lily-white lies,
all wrapped up in a jim-crack fancy.
I never met Poppa,
I never asked why
.
People said Poppa wasn't no-account anyway,
people said Poppa was a rollin' stone.
I turned twenty on the Waccamaw thruway,
headed upriver in the dark alone.
.
CHORUS
I been sleepin' with a stranger in a no-name town,
Thanksgiving dinner at the Top Hat Lounge,
Christmas Eve at the Fantasy Tan,
Lord have mercy on the Crocodile Man
.
I hooked up with a carnie,
a little out of Memphis,
slavin' in a side-show,
pennies in a jar,
beetle-eyed jokers, hick-town princes,
rhinestone rubies and rubber cigars.
.
I wrassled me a gator up in Omaha city,
done me another down in New Orleans,
tangled with the barker,
ran off with the kitty,
crawled the Mississippi and I got away clean
.
Underneath the levee in a cattail thicket,
down in the shadows of a shady grove,
there's a thatch roof risin' from a poke-fence picket,
white smoke billows from a coal-black stove.
.
Inside the house is the hall of mirrors,
inside the mirror is the temple of sin,
inside the temple is the face of Momma,
and Momma, she knows where I been.
My Momma knows exactly where this bad boy been.
.
https://www.youtube.com/watch?v=qGU4a63M-gY